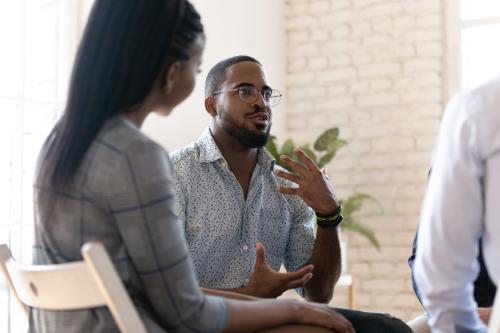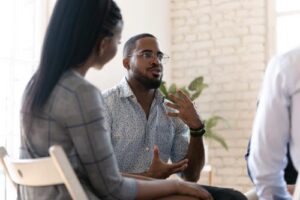 If you're seeking an addiction treatment program, NuLife Behavioral Health Illinois can offer you the best outpatient rehab in Chicago. We offer flexible scheduling as you balance recovery with your daily life and support you and your family as you work toward sober living. Our substance abuse treatment focuses on individual therapy sessions and group therapies as part of our comprehensive, intensive outpatient program.
Outpatient Programs - Balancing Recovery and Daily Life
Life is complicated. That's why we offer flexible outpatient treatment programs that allow patients to continue fulfilling daily responsibilities while undergoing treatment simultaneously.
In our outpatient addiction treatment program, clients participate in therapy sessions and group meetings at our facility but return home at the end of each day. This setup provides a supportive environment for recovery without requiring an extended stay. The duration and intensity of these programs can vary based on a person's needs, making them a versatile option for many people.
The core components of our outpatient services include:
Cognitive behavioral therapy (CBT)
Dialectical behavior therapy (DBT)
Motivational interviewing (MI)
Family therapy
Educational classes about drugs and alcohol addiction
Benefits Of Flexible Scheduling in Recovery
The primary benefit of choosing an outpatient treatment program is its flexibility. Outpatient programs provide an opportunity to receive treatment while maintaining one's daily activities. This balance helps maintain stability and normalcy during outpatient rehab. It also allows the recovering person to immediately apply skills learned during therapy sessions into their daily lives, reinforcing positive behaviors outside the clinical setting.
Beyond convenience, research has shown that outpatient care can be as effective as residential treatments for many people struggling with substance use disorders (source). This makes it a practical choice and a powerful tool for achieving long-term sobriety.
Understanding Substance Use Disorders
A substance use disorder (SUD) is classified based on the substance involved. But whether you or your loved one struggles with alcohol, opioids, or another addiction, the symptoms are the same: strong cravings for the substance, inability to control its usage despite knowing its harmful effects, tolerance (needing more of it over time), withdrawal symptoms when not used, and more.
Substance abuse disorders can cause organ damage or a weakened immune system, but they also affect mental health. Patients may also have a "dual diagnosis" of co-occurring conditions like depression and anxiety. SUDs disrupt individuals' relationships with family members and friends, and that isolation can make their condition even worse.
If your loved one has been trying hard but repeatedly failing to overcome a substance abuse disorder, it may be time to seek professional help.
The sooner you seek help, the better your chances are to achieve a successful recovery and prevent further harm caused by prolonged substance abuse.
The Importance of Timely Treatment for Addiction
A delay in seeking help for drug and alcohol addiction can lead to severe health complications, strained relationships, financial problems, and even legal issues. Early intervention not only decreases the chances of detrimental consequences but also enhances the potential for sustained sobriety. According to research, individuals who receive immediate treatment have higher success rates than those who wait.
Prevents Health Complications: Prolonged substance abuse can cause serious health issues such as liver disease or heart conditions, which could potentially be fatal.
Saves Relationships: Substance misuse often leads to broken families and friendships, but prompt help can mend these bonds before they're irreparable.
Economic Benefits: Early intervention saves money in the long run by avoiding the costly healthcare treatments associated with advanced stages of addiction.
How Professional Help Can Change Lives
Success in an outpatient mental health program is all about acceptance and commitment. Taking that first step towards recovery may seem daunting, but remember: You don't have to do it alone. At NuLife Behavioral Health Illinois, our team of dedicated professionals is here every step of the way, providing support through personalized care plans designed specifically for your needs. NuLife Illinois's outpatient programs offer:
Mental Health Support: We offer mental health services, including individual therapy sessions where patients learn coping strategies necessary during their journey towards sobriety.
Cognitive Behavioral Therapy (CBT): This form of therapy aims at changing harmful thought patterns leading up to addictive behaviors.
Familial Support: NuLife understands that family plays an integral role in one's recovery process, and we provide resources like family support groups.
NuLife Behavioral Health Illinois' Approach To Substance Abuse Treatment
At NuLife Behavioral Health Illinois, we take a comprehensive approach to substance abuse treatment. We provide a holistic strategy to help individuals overcome their substance abuse struggles and transition into healthier lifestyles.
Individual Therapy Sessions at NuLife
At NuLife, our individual therapy sessions are one-on-one interactions with trained professionals. They use such evidence-based methods as cognitive behavioral therapy (CBT) and dialectical behavioral therapy (DBT) to identify the underlying causes of addiction. These approaches help patients understand the root causes of their addiction, develop coping mechanisms, and build resilience against relapse.
Group Therapies Offered by NuLife
We also offer process, psychoeducational, and skill-building types of therapy that provide peer support. In these sessions, participants can learn from others facing similar challenges while developing the social skills necessary for long-term recovery.
Our treatment plans can also include such holistic healing modalities as yoga or meditation to foster physical wellness alongside mental health improvement.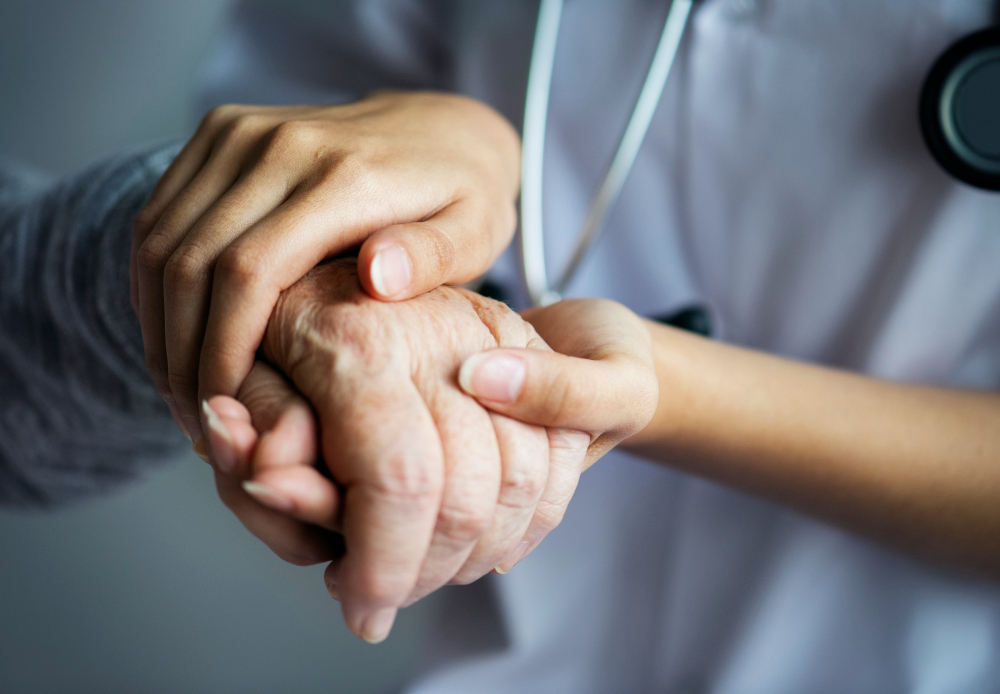 The Levels of Care at NuLife Behavioral Health Chicago
At NuLife Behavioral Health Illinois, several tailored levels of care are available for you. When screening for addiction treatment, an intake coordinator will help you or your loved one choose the appropriate types of therapy.
Partial Hospitalization Program (PHP)
Partial hospitalization programs are a step-down level of addiction rehab, second only to residential treatment, in the time commitment necessary. The most significant difference is that PHP patients go home or back to sober living arrangements each evening. This program is ideal for people who need more intensive help than traditional outpatient services but don't require full-time residential care. PHPs provide a balance of structured behavioral therapy and the opportunity to utilize real-life experience to build resilience against relapse triggers and build coping skills.
Intensive Outpatient Program (IOP)
Similar to drug rehab but with the freedom to live at home, intensive outpatient treatment is another approach to addiction recovery. IOPs are ideal for people stepping down from a PHP and need continued support. Intensive outpatient treatment meets several days per week for 2-3 hours, allowing participants to continue their jobs and home lives outside the program.
Intensive outpatient treatment provides clients with a structured environment to support their recovery as they bridge full-time treatment and healthy life outside of treatment. IOPs promote the use of healthy coping mechanisms and relapse prevention, as well as counseling services to address underlying psychological issues.
All these elements come together to form a treatment plan tailored to each patient's needs. That makes NuLife Behavioral Health Illinois one of the leading providers of outpatient addiction treatment in Chicago today.
Key Takeaway
Many people struggling with alcohol addiction also have mood disorders like depression or anxiety, known as dual diagnosis. This combination requires a treatment approach that addresses both issues simultaneously because using alcohol to cope with mental health problems often worsens the situation. NuLife Behavioral Health's clinics in Chicago focus on treating both aspects of this double trouble for effective recovery.
Family Support Groups for Dealing with Addiction
Family members are impacted by addiction, and families play an essential role in the drug or alcohol recovery process. That's why NuLife Behavioral Health in Chicago, Illinois, offers family therapy groups to provide emotional assistance during this challenging time.
The Role of Family in Recovery
Families can provide crucial emotional support and motivation for their loved ones to stay committed to sobriety. Family members must remember that addiction is a disorder that requires the care of addiction professionals and avoid taking too much of the burden on themselves.
Educational Resources and Emotional Support
We equip families with educational resources about substance use disorders (SUDs) and treatment options available, including outpatient programs, helping them make informed decisions about care plans for their loved ones. In addition to providing valuable information about SUDs and recovery processes, these sessions serve as platforms for mutual emotional support among participants dealing with similar challenges. For additional help, SAMHSA's National Helpline offers free, confidential, 24/7 assistance related to mental health issues, including SUDs.
FAQs about Outpatient Addiction Treatment Chicago
What is the success rate of IOP?
The success rate of Intensive Outpatient Programs (IOP) varies widely depending on individual circumstances and commitment to recovery. Still, studies have shown they can be as effective as residential treatments for many individuals.
An Intensive Outpatient Program (IOP) provides structured therapy while allowing patients to live at home and continue certain daily activities. An IOP is a great option when a full-time residential program isn't necessary or feasible.
What should treatment for addiction include?
The most effective addiction treatments typically include a combination of medication-assisted therapy, individual therapy, group therapy, family therapy, and continuing care.
Take the First Step at Nu
Life

Behavioral Health Illinois
If you're ready to take the first step on the road to recovery, we're here to help. Our admissions team is available to answer your questions and help you get started. Our outpatient treatment programs include:
Partial hospitalization treatment – Our PHP provides intensive treatment during the day but leaves your nights and weekends free.
Intensive outpatient treatment – Our IOP is designed for individuals who need more structure than traditional outpatient treatment.
Outpatient treatment – Clients in our outpatient program focus on building a solid foundation for recovery while transitioning back to everyday life.
Call NuLife Behavioral Health Illinois today at
844.383.0626
or contact us online to learn more about our substance abuse treatment programs.