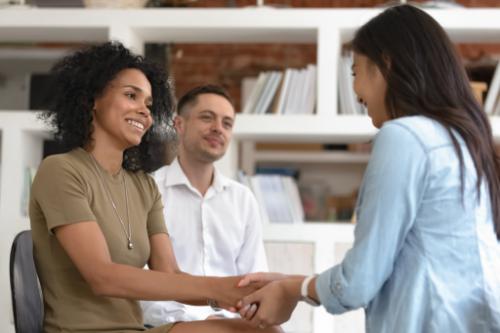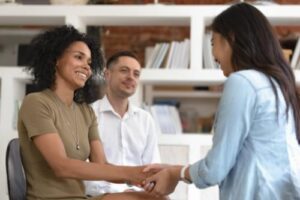 If you are tired of living under the thumb of addiction or mental health concerns, NuLife Behavioral Health Illinois is here to help you take your life back.
We know that there is no one-size-fits-all approach to behavioral healthcare as no two people are alike, and everyone's needs are specific to their life. This is the very reason why our substance use and mental health treatment programs at NuLife are always tailored to the individual client's needs. We treat you with the respect and compassion you deserve, supporting you at every step of your recovery journey. Our family programs and combination of holistic and evidence-based treatment modalities help our clients achieve genuine lasting recovery.
If you or someone you love has a primary diagnosis of a substance use disorder or a mental health concern—or whether they are battling co-occurring disorders—NuLife is here to help. To learn more about what our team of behavioral health specialists can do for you, reach out to us today at 844.383.0626 or contact us using our convenient online form.
NuLife Behavioral Health was founded out of a personal vision of understanding the impact of substance abuse and mental health needs from experiences within their respective industries, their communities, and family. Alex Zeiger and Sam Glick were discussing how their professions—pharmacy and psychology, respectively—had been impacted by substance use and mental health issues, witnessing first-hand the escalation of need and wanting to be a larger part of helping. Their answer was to create a new kind of treatment center that can tackle these issues head-on to be at the forefront of the behavioral health industries innovations in care.
NuLife Behavioral Health is here to help individuals in Illinois and beyond, to meet each individual wherever they are in the lifecycle of their illness, and offer help and hope. We understand that not everyone has the time or resources to spend 30 to 90 days in a residential treatment program, which is why we have ensured that effective outpatient treatment is more accessible to those in need than ever before. We know the toll that mental health and addiction issues can take on an individual and their family, and we tailor each of our programs to meet the needs of the individuals in our care as they continue to reside at home while they recover.
The NuLife Behavioral Health Mission
At NuLife Behavioral Health Illinois, our mission is driven by a single core belief: that individuals with substance use disorders and mental health concerns can achieve long-term, meaningful recovery ​​and live a wellness-based life. We live out this belief every day by assisting and supporting individuals and their families, treating their conditions in accordance with their specific needs in new and innovative ways. By doing so, we empower our clients to become accountable for their own recovery.
Recovery is more than just physically abstaining from drugs and alcohol. The real damage that addiction inflicts is that of isolation and hopelessness: an individual experiencing addiction is cut off from their families, their communities, the things they love, and even from themselves. At NuLife Behavioral Health, we believe that treatment must therefore be geared toward integration and connection. In this sense, recovery allows the individual to live a meaningful, happy life free of drugs and alcohol.
Likewise, mental health concerns can get in the way of one's ability to live life on their own terms. At NuLife Behavioral Health Illinois, we recognize the importance of treating the whole individual, which is why our program utilizes treatment approaches that bolster the mind, body, and spirit. We understand that mental health conditions do not just affect the mind—they impact the whole person.
By combining evidence-based practices like cognitive-behavioral therapy (CBT) and dialectical behavior therapy (DBT) with more holistic approaches like yoga and meditation, we help each of our clients find not just relief but release from the stress and trauma that so often accompany substance use disorders and mental health concerns. Only once we have learned to address this balance will struggling individuals be able to heal themselves, rebuild strained and broken relationships, and discover the things in life that give them a sense of meaning and purpose.
NuLife Behavioral Health is an outpatient treatment center, which means that our clients receive treatment while living at home so they can continue with their everyday lives, such as working and going to school. This approach involves multiple levels of care that we tailor to our client's needs.
Partial Hospitalization Program
Our partial hospitalization program (PHP) is our highest level of outpatient care. It provides all of the support and care a client would find in a residential program, but they continue to reside at home.
Intensive Outpatient Program
Our intensive outpatient program (IOP) is designed for individuals who have completed a PHP or residential treatment program and are ready to continue their recovery journey. It is also appropriate for those who enter our program requiring a less comprehensive level of care.
Our outpatient program is our least intensive level of care and is ideal for individuals who have completed an IOP or who are at a stage in their recovery journey where they are ready to put the skills that they are learning into practice in the world outside of the program. The focus at this level of care is on continuing to develop healthy coping skills and building a solid support network.
Learn More at Nu
Life

Behavioral Health Illinois Today
If you or someone close to you is battling addiction or mental health concerns, the time to get professional help is now. Reach out to the team at NuLife Behavioral Health Illinois today at
844.383.0626
or connect with us online to learn more about what we can do for you.